Air conditioners are found on almost all RVs, yet they seem to remain one of the biggest unknowns for most RVers.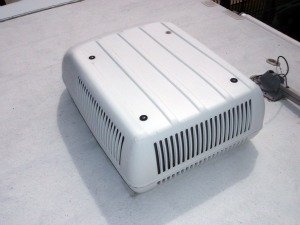 For their relatively small sizes, RV air conditioners are very strong and go through a lot of wear and tear atop your RV. With a little maintenance and a watchful eye though, you can get the longest lifetime out of your air conditioner and, ultimately, save a good amount of money from doing so.
Most RV air conditioners are not designed to be opened and repaired, and if a repair is possible it is often very costly.
It is an unwritten rule most RV Tech's go by to replace any roof AC over 10 years old with major problems. Replacing a bad compressor is just not cost effective on an older unit, and if a unit has lost its charge then it has a leak and is not cost effective to repair that either. So save some money in the long run and replace instead of repairing your old AC.